Great Holiday Gifts for the Fitness Enthusiast, Easy Gym and Fitness Gifts.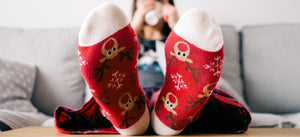 With the holidays right around the corner, it might not be a bad time to start planning on what to get your family and loved ones. To make your shopping life easier, we have compiled a list of some of our favorite present ideas to help spread the holiday joys. While some of the items may not be the cheapest, we have made sure they are at least the best value that your hard earned money can buy! Check out the holiday shopping list for your fitness enthusiast.
It should be known that most fitness enthusiasts are not just about going to the gym, but also about eating healthy, but sometimes we just don't have the time to cook a heathy meal. Thats where a pressure cooker comes into play! Combine the ingredients and your food is perfectly prepared in under an hour. We have found that the Mealthy is the most integrative and user friendly pressure cooker that also comes with an app that allows the user to follow simple recipes and modify their food preparations as they go. Get ready for some easy, healthy, delicious home cooking. Oh, and at over 700 5-star reviews, we aren't the only ones who love our pressure cooker!
Maintain and monitor your water intake with this Gallon water jug! A little motivation goes a long way in our world. The maintenance of drinking a gallon of water daily can get tedious, so that where a jug with some helpful markers on it help! We have found this one to be the best value in terms of quality of the jug itself and the fact that we aren't ashamed to be walking around town or our work with it. This bottle comes in a variety of colors too so you can add a touch of your personalization that the gift recipient will love!

Dumbbell Shaped Water Bottle, PETG
Probably the cheesiest Water Bottle on the market, but it makes for a great gift! It's 99% guaranteed to put a smile on your recipients face. We have tried a few brands out there, but this one seems to hold up the best and actually looks pretty cool as well. It's almost guaranteed to get some attention and shows the dedication that us fitness folk have to have to CONSTANTLY be thinking about the gym. Show them you are thinking of them with a little muscle pump (weighs about 5 pounds when full!)
NextRoller Vibrating Foam Roller 
We all know the benefits of a foam roller, the rollers are truly life saving when you are sore and tense, but have you tried a vibrating roller? Holy Moly this is a game changer. There are a few on the market, but the foam roller made by Nextrino is ridiculous. They have been featured on some big TV shows/websites such as FOX, CBS, and ABC. It runs about $100, but the pain relief is worth every penny. Even better, its quiet, not that you need it to be, but it is ;)
In case you don't want to fork up the $$ for your foam roller, Trigger Point is still making the BEST foam roller (that doesn't vibrate) we have ever tried. Its about 1/3 of the cost, so it will be sure to NOT break the bank and still leave some room to get your enthusiast some other gifts! Trigger point was the original designer of the grid foam roller, and they still have the best quality roller out there. They are the only company that we have dealt with that has some 5* customer service as well in case anything happens to your roller. Oh yeah, it has roughly 3,000 5-star reviews as well, just in case you don't fully trust our opinion, you can trust theirs as well!
Body Back Buddy Trigger Point Therapy Self Massage Tool 
I promise I will get off the massage category, but what would a fitness wish list look like if it wasn't filled with pain relieving goodies?? This massaging tool is not new, it has a ridiculous following online and still is one of the best sellers online. Hit those hard to reach spots and relieve your muscle pains for less than the cost of a masseuse, and you get to use it again after you are done! I will admit it is a little tricky to figure out at first, but the learning curve is minimal and your holiday gift recipient will thanking you for years for this massage tool.
Ab Glider Sliding Plates with Speed Rope 
The RAW Built Tech Glide plate and speed rope set is a great way to get your friends and family moving while making workout out fun! Let's face it, winter is going to be cold and gym time is going to be harder to justify, so why not give the gift of a six-pack while at home? For the holidays, they are throwing in a speed rope to make it a bundle that will not disappoint.
Hopefully the person you are buying gifts for has a sense of humor, because this t-shirt will make them smile! The shirt is slightly contradictory because we all know cardio kills gains, but we let it slide this time. Not much meeds to be said about this one, except if you hit the bottom line, you have way too much dedication, or just need to turn the A/C on! Its a unique shirt that we are sure will make a perfect gift.
Perfect for the winter enthusiast. It keeps your head warm, and keeps your music going without cords. Some of us here at the office have the beanie and the music quality is actually pretty solid. Now you can have fun with your winter sports and have your jams going at the same time. Its an easy win-win in my opinion! With a surprise this good, best of luck keeping it a secret until the holidays!
A gift idea for the fit lady in your life, wife, daughter, girlfriend, or just a workout partner, this shirt is reflective of all of our lady friends of out there. The two things that should make your recipient happy, Gym and Starbucks. What a great world we life in! On the real though, the quality of this shirt is great, its a high quality fabric that allows your body to breath and is better than just those other solid colors! We want to see our comments below filled with pictures of you all wearing this shirt!
The coffee mug for the #fitnessfreaks. Its a huge mug that will make the fitness enthusiast on your holiday shopping list smile! Let's face it, everyone drinks coffee, so why not be reminded of those guns while you wake up in the morning. It's a great way to handle the morning fog with a cup of confidence.
You have to get this book. It's a great addition to anyones library and gives a great insight to the human anatomy and shows exactly what muscles are working, or should be working during your strength training. It's honestly a super cool gift idea that will help whoever reads it. The artwork is phenomenal and you can see the amount of care and thought that went into every drawing. It's essentially the best way to see that cutting corners and pushing weight doesn't make you stronger, it only takes away from activating the correct muscles you are targeting.
 RAW Built Tech Compression Knee Sleeves
As a winter special, we are selling these compression knee sleeves for a bargain. Intended for the pair that get fit together, our BOGO is a Buy One, Get One 1/2 off. Or 25% off of both pairs when you buy two. So get one for a gift, and keep the other for yourself, no one will ever know… Shhhhh…. Or be super nice and give both away, because its the time of giving right? Nah, keep them both.
If we missed anything that would make a fitness fan happy, please do not be shy and help us out in the comment section below! We hope you can get some ideas form these posts and may your holidays be filled with happiness beyond what a present may bring!
Scott S
In case you missed it, check out the top 10 Pre-Workouts of 2018! 
---
---
Leave a comment
Comments will be approved before showing up.