Top 10 fitness women on fire this week!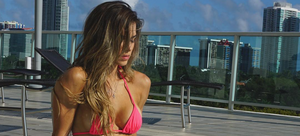 You have worked hard all week, it's almost that time to relax a couple days and do the things YOU want to do… Like hit the gym, do laundry, meal prep, and clean the house… Keep your ambitions high and you will hit the mark, just try not to go crazy in the process! To help you start the weekend off right, we have composed a list of our top 10 favorite women of fitness to follow on Instagram (this week at least). They may be good for fitness tips, inspiration, or maybe just nice to look at. You be the judge!
Let us know if we missed anyone in the comments below!
10) Shelbyeschlange
Health and wellness specialist + Beach body = what more needs to be said??
9) sara.beth.thomas
Bikini competitor - Strong women make the world turn the right direction!
8) Kaliburns
Personal trainer - With her constant booty posts, its no wonder she runs the Booty Bible workshops!
7) savannahprez
Athlete extraordinair!
6) isabellecornish
Australian actress/ fitness enthusiast - Living proof you can be skinny and in shape!
5) aliciamariebody
This girl is straight fire! Not only is she in shape, she also creates costumes from scratch and they are on point!
4) buff_cookie
The American dream -  beautiful, buff, and guns... 'Merica
3) bruluccas
By far one of the bikini babe top 10!
2) Alice
Instagram almost broke when she posted this bikini shot
1) Anella
If you haven't been following Anllela Sagra, now is as good as any time to start. She is the creator of many fitness programs to keep you on track. Not easy to decide our number one... But this girl has been the epitome of fire this week. Keep that game strong
Did we miss anyone that you would recommend? Let us know below!
Enjoy your weekend fam.
-Scott
RAW Built Tech 
---
---
Leave a comment
Comments will be approved before showing up.